Hammocks
Weather-resistant, comfortable, and beautiful, our hammocks have everything you could ask for. We have different sizes and styles to fit your needs, whether you want a hammock chair or a family hammock or want it indoors or outdoors. Plus, they are easy to setup!
SHOP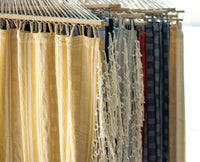 New Orleans Pin Collection
Let the culture of Lousiana be with you all the time! From the big smile of an alligator partying on Bourbon Street, to the mysterious powers of a Voodoo Doctor. These enamel pins will definitely be the best compliment to your hat, backpack and accesories.
SHOP
Celebrating Everywhere!
From the wonderful New Orleans Jazz & Heritage Festival to the traditional French Market Creole Tomato Festival, Latin's Hand is known for its long participation of over 38 years in offering a variety of craftsmanship products from Latin America to the city of New Orleans.
Learn More
What our customers are saying
"I love coming to this shop, it has a variety of hats, styles, colors it's hard to pick only one"

Charles, Austin, TX
"I have had my palm leaf hat that I got from Latin´s Hand for over five years and it is still in good shape. But I am going to buy another one"

Clara, Jacksonville, FL
"Every time I visit New Orleans, I buy a new hat in Latin´s Hand"

Andrea, Metairie, LU
Location
Latin's Hand
1025 North Peters St.
New Orleans, LA
Monday to Sunday
10:00 am - 6:00 pm