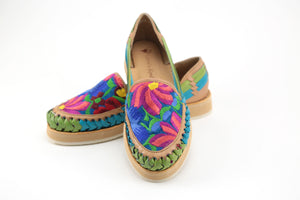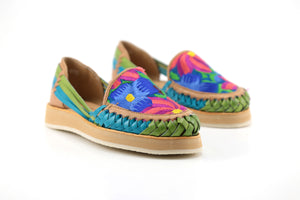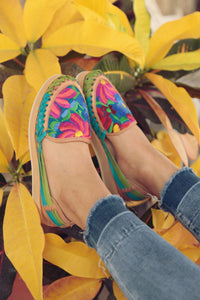 Looking for a splash of color? These unique huaraches are decorated in hand-sewn, vibrant flowers. The braiding around the shoe is also made of dyed leather to help accentuate the flower pattern while allowing for breathability. In a loafer style with thick soles, you can get comfort and flair in one pair of shoes!
Made in Mexico
100% Premium leather
Handmade by Mexican Artisans
Tips on Sizing: Size down if your foot size is a half size, i.e. 7.5 -> 7. Size up if your feet are wide.
Notice: Leather shoes need to be broken in, so the leather will expand and mold to your feet. As such, the first few times you wear our brand new shoes, the fit may be a little tight.
Description #2240