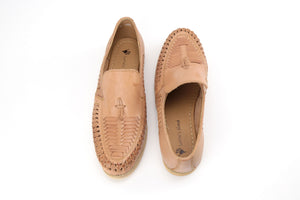 These stylish shoes are made out of a soft, light-colored leather. The braiding technique used by Mexican artisans allows for breathability, and the flexible sole promotes ultimate comfort wherever you go. There is an elastic inside to help keep the shoe fit and snug. Just slip them on and you're ready to go!
Made in Mexico
100% Premium leather
Handmade by Mexican Artisans
Tips on Sizing: Size down if your foot size is a half size, i.e. 7.5 -> 7. Size up if your feet are wide.
Notice: Leather shoes need to be broken in, so the leather will expand and mold to your feet. As such, the first few times you wear our brand new shoes, the fit may be a little tight.
Description #1033